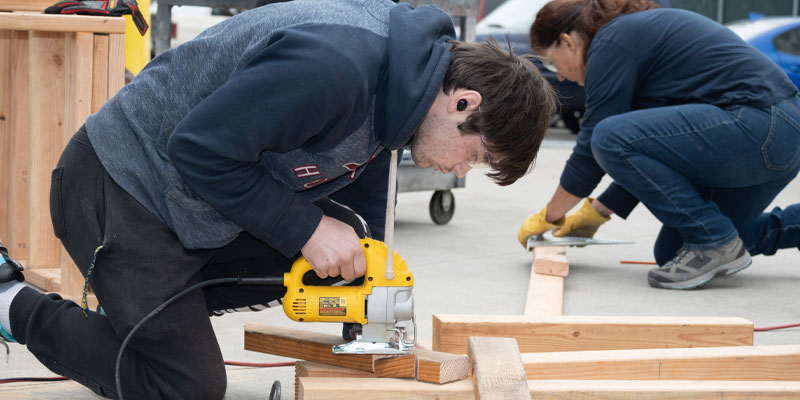 Want to jump-start your career or college path in just a few months? Questioning whether college is even the right choice for you? These two-class certificates are the perfect place to start! Los Medanos College is now offering tuition-free, short-term, noncredit certificates!  These programs can prepare you to enter rapidly growing fields in the Bay Area. With no tuition and no grades, there's no pressure and no risk. 
Drone Pilots are making $32-39/hour in a variety of industries, including media, law enforcement, cinematography, environmental science, geography, real estate, and more. Whether you want to add drone operations to your skillset – making you a more valuable employee – or you want be a full-time pilot, LMC's program will launch you in that direction. Students will split their time between actual stick-time and learning about flight plans and emergency procedures so that they are able to pass the FAA Part 107 Remote Pilot licensure exam upon graduation. You can learn more from recent students at https://www.youtube.com/watch?v=1jCuHAcz-38!
Construction jobs can range from $25 to $40 per hour, depending on experience, and completing a Construction Pre-Apprenticeship is a great way to get started with a career in this industry. Students will get plenty of hands-on practice and earn the national Multi-Craft Core Curriculum (MC3) certificate. LMC's experienced instructors will show you the technical tricks and communication keys to make you stand out, so that – whether you pursue a union apprenticeship or a non-union contractor job – you will be ready for immediate employment in this booming field.
You've seen the news about problems in the global supply chain; now you can have a great career as part of the solution! With the increasing demand for online shopping and delivery, warehouse logistics is a rapidly growing local industry, and the new Amazon facilities in Oakley are just one example of available career opportunities. LMC's certificate in Forklift, Logistics, Operations & Warehouse (FLOW) prepares students for jobs as a driver, material handler, picker, and more, with advancement potential to warehouse and logistics management. Students who complete the program will graduate with a forklift license and OSHA-10 certification, as well as the confidence to make a difference and move up rapidly in their career field.
Ready to get started? Contact: Melina Rodriguez, [email protected]