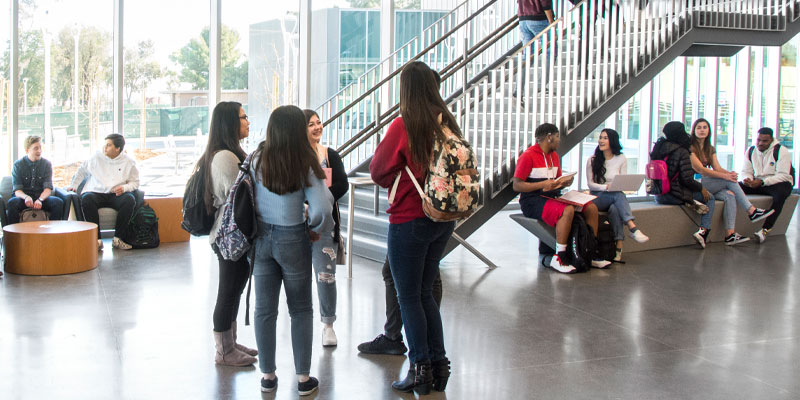 A new Student Union opened this Spring at Los Medanos College (LMC), creating a hub for campus and community engagement. This long-awaited building provides numerous spaces for students and the community to gather, connect, and grow outside of the classroom.
The lower floor of the Student Union includes a new Bookstore, Food Services area, Student Lounge, Food Pantry, and a Conference Center. The Conference Center has the capacity to accommodate seating for 485 people in its largest configuration, and provides flexibility to meet the needs of small and medium-sized events with fully-integrated A/V systems. This state-of-the-art venue provides an unparalleled event, meeting, and conference location in East Contra Costa County.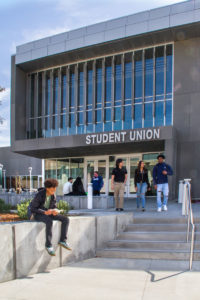 On the upper floor of the Student Union, there are offices and meeting space for Student Life programs, the Associated Students (student government), International Students Program, and Learning Communities.  This highly-collaborative space for student engagement and leadership also features: a large gathering area for student clubs and organizations; enhanced centers for the Umoja Scholars and Honors programs; and brand new student support areas, including a Latinx Empowerment Center and a Unity Center.  
Learning Community coordinators have all remarked about the increased opportunity this building provides to foster collaboration among the many LMC programs focused on increasing student success. Jennifer Saito, Director of the LMC Honors Program, shared her excitement about "a bigger communal space for people to hang out."  Ms. Saito explained that, "the possibilities for collaboration and cross pollination [between programs] are endless."  Jamila Stewart, Coordinator of the Umoja Scholars Program, is also excited about the new collaborative space and the impact it will have on students.  Ms. Stewart described how "being in closer proximity to other programs increases access and opportunity."
The Student Union construction project was made possible thanks to the voters of Contra Costa County through Measures A (2006) and E (2014), and by the students of Los Medanos College through the Student Union Fee fund (enacted in 2003). Visit LMC to explore and enjoy this beautiful new building!
LMC encourages community groups to utilize the Conference Center for events. For further information, please contact Sheri Woltz at (925) 473-7376 or [email protected].