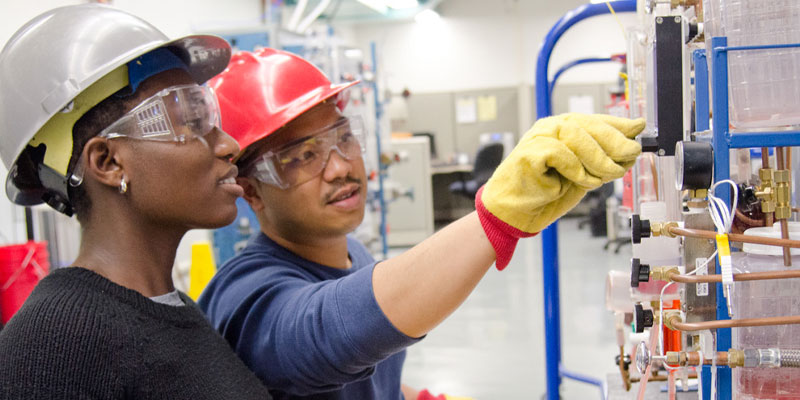 Boosting technical skills leads to better jobs and higher pay
When it comes to finding a fast track to better jobs and higher pay, Los Medanos College has paved the way through its Career and Technical Education programs.
From automotive technology to travel marketing, and from accounting to welding, LMC students gain skills and experience in the latest technology and exposure to emerging trends in their field.
Students in the process technology program – also known as PTEC – gain hands-on experience with advanced manufacturing equipment designed to model what they would use in a petrochemical plant, utility plant or food processing plant.
LMC is home to the only PTEC program in California and one of only a handful in the country.
William Cruz, a chemical engineer and professor of industrial technology in the PTEC program, said employers actively recruit LMC students because they are the most well prepared to fill jobs essential to their industries.
"PTEC people are essential workers," he said. "We are the people who ensure the electricity stays on; we run water treatment facilities, make wine, beer, food, beauty care and pharmaceutical products, computers and so on. Our PTEC students get skills that can be used anywhere in the country and are in high demand."
Cruz said students who complete the two-year program at LMC often rise quickly from entry-level to well-paying leadership positions in their industries, earning more than $100,000 per year in less than 5 years with zero college debt.
Similarly, in LMC's automotive technology program recently invested $500,000 in new cutting-edge technology. LMC students  practice diagnostics and repairs on the latest car and truck models, including electric and autonomous vehicles. Successful program graduates are prepared to take the national ASE certification exams and are qualified for employment as automotive technicians in dealerships, privately owned garages and repair shops diagnosing and repairing automobiles.
LMC offers College Skills Certificates and individual classes that students can complete within a single semester. Some of these classes can count toward an associate degree. These include:
Assistant Teacher certificate (for childcare and K-12 education)

Emergency Medical Technician certificate (EMT)

Smog Technician certificate (and seven other automotive technology specialty certificates)

Business classes in MS-Office, Small Business Management, Accounting
To learn about all 18 career and technical education programs at LMC, visit www.losmedanos.edu/cte/programs.