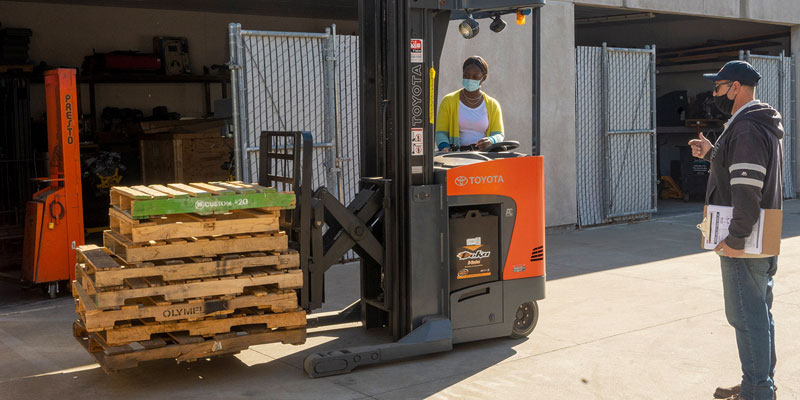 Not every jobseeker needs a college degree. Some just need new skills to kickstart a great career.
That's where Los Medanos College excels, providing a variety of tuition-free, short-term, noncredit certificates.
"These programs prepare you to enter rapidly growing fields in the Bay Area," Interim Dean of Career and Technical Education Dennis Franco said. "With no tuition and no grades, there's no risk and no pressure."
Noncredit programs are designed so students can complete them within one semester, about four months. Although these are tuition-free programs, some fees apply.
Construction Pre-Apprenticeship:
Construction jobs can range from $21 to $28 per hour, depending on experience and training, such as completing a Construction Pre-Apprenticeship Program. Students who go through this program get hands-on experience and earn the national Multi-Craft Core Curriculum (MC3) certificate. LMC's experienced instructors show students the technical tricks and communication keys to give them an edge. This helps students stand out, whether pursuing a union apprenticeship or a non-union contractor job. LMC students who complete this program are prepared and ready for immediate employment in this booming field.
Forklift, Logistics, Operations & Warehouse:
Over the past two years, jobs in this field have surged in demand, especially with increased online commerce moving products in greater volume into warehouses for delivery. LMC students who take this three-course program will be ready to jump into jobs in a booming local industry, including Amazon facilities in Oakley. The certificate in Forklift, Logistics, Operations & Warehouse (FLOW) prepares students for jobs as a driver, material handler, picker and more, which can lead to more advanced warehouse and supply chain management roles. Students who complete this program graduate with a forklift license and OSHA-10 safety certification.
To get started or to learn more, contact Melina Rodriguez, program coordinator at LMC's Workforce & Economic Development (925) 473-7417, [email protected].