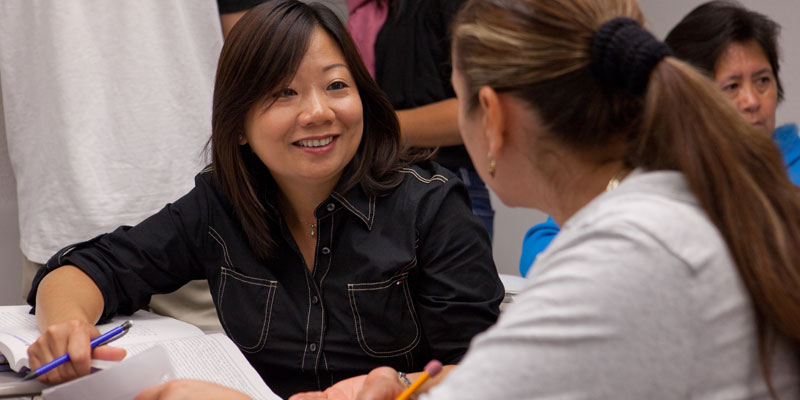 Los Medanos College has long excelled at helping non-native English speakers who want or need to learn and improve their English fluency.
"At LMC, we are here to serve and support any and all immigrant, refugee, and international students whose first language is not English," said Paula Gunder, English as a Second Language (ESL) professor and department chair. "Our goal is to help students learn, practice, apply, and ultimately acquire both general and academic English to improve their communication skills and abilities for personal, social, civic, educational, or career purposes."
Gunder said the over-arching program goal is to empower students by enhancing their bilingual and multilingual capabilities – both necessities and assets in a diverse and global job market.
"We encourage students to build on their successes," Gunder said. "Upon entering our program at the stage of English language learning, our dedicated ESL counselor Eva Padilla helps them understand and navigate the college-going processes."
That process includes guiding students through general and/or academic ESL courses, and the transition into their chosen academic and career pathway, she said.
To accomplish this and recognize students' achievements, LMC ESL offers certificate-based packages of ESL courses that support students at four stages of English language development. Each package includes instructionally integrated courses that students can take for credit or non-credit (tuition free). For more information visit https://direc.to/jfdH.
---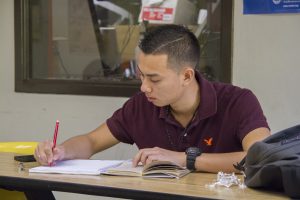 Los Medanos College se ha destacado durante mucho tiempo en ayudar a los hablantes no nativos de inglés que quieren o necesitan aprender y mejorar su fluidez en inglés.
"En LMC, estamos aquí para servir y apoyar a todos y cada uno de los estudiantes inmigrantes, refugiados e internacionales cuyo primer idioma no es el inglés", dijo Paula Gunder, profesora de inglés como segundo idioma (ESL) y directora del departamento. "Nuestro objetivo es ayudar a los estudiantes a aprender, practicar, aplicar y, en última instancia, adquirir inglés general y académico para mejorar sus habilidades de comunicación y sus habilidades para fines personales, sociales, cívicos, educativos o profesionales."
Gunder dijo que el objetivo general del programa es empoderar a los estudiantes a mejorar sus capacidades bilingües y multilingües, necesidades en un mercado laboral diverso y global.
"Apoyamos a los estudiantes a aprovechar sus éxitos", dijo Gunder. "Desde que entran a nuestro programa en la etapa de aprendizaje del idioma, nuestra dedicada consejera de ESL, Eva Padilla, los ayuda a comprender y navegar los procesos de ingreso a la universidad."
Ese proceso incluye guiar a los estudiantes a través de cursos de ESL generales y/o académicos, y la transición hacia el camino académico y profesional elegido, dijo Gunder.
Para lograr esto y reconocer los logros de los estudiantes, LMC ESL ofrece paquetes de cursos de ESL basados ​​en certificados que apoyan a los estudiantes en cuatro etapas del desarrollo del idioma inglés. Cada paquete incluye cursos de instrucción integrados que los estudiantes pueden tomar con o sin crédito (matrícula gratuita).
 Para más información visite https://direc.to/jfdH.