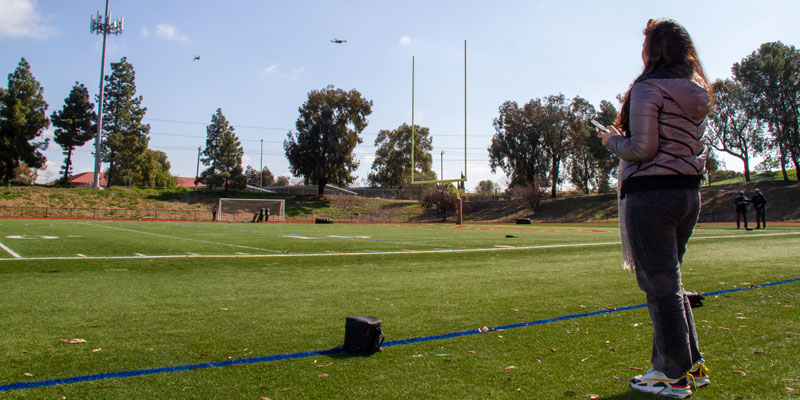 LMC offers fun, free way to brighten your future
For drone program students at Los Medanos College, the sky is the limit for how the skill will bring their dream jobs into reality.
"It's the wave of the future," said Joseph Dusek, a graphic communications and design major, who plans to start his own business as a drone pilot for hire for a multitude of purposes. "There are so many job opportunities opening up with this sort of technology."
The drone program at Los Medanos College is a non-credit, tuition free course that prepares students to pass the FAA Part 107 Remote Pilot licensure exam.
"We encourage students from all backgrounds, skill levels, and motivation to sign up," said Jeffrey Miller, drone program lead. "We provide the equipment and guide students on best practices to become licensed pilots. Students also take home skills like video capture and editing that could help them build a portfolio and gain employment."
The program introduces students to job opportunities available to licensed remote pilots. Students practice with drones equipped with advanced technology like GPS, 4K cameras, and autopilot features, which are standard in most industries that are adopting the use of drones.
"The commercial remote pilot industry is growing, and licensed remote pilots are in high demand," he said. The Association of Unmanned Vehicle Systems International estimates demand for unmanned aircraft will create more 100,000 new jobs by the year 2025.
Drone pilots start at about $20 an hour.
Miller added that drones already are in use in a diverse array of industries including:
Agriculture and mining

Construction and engineering for mapping and surveying inspections

Commercial delivery of medical supplies, food and packages and

Public safety, such as law enforcement, search and rescue, and emergency services for disaster response
Kasey Gunderson a fire technology major, in the course, said he believes drones will become a prevalent tool across multiple industries, including his own.
"It's where the world is moving," he said. "I plan to work for Cal Fire (California Department of Forestry and Fire Protection). I could see using drones for surveying woods for wildfires instead of using fuel for helicopters."
Brianna Luna, a communication studies major, envisions the newfound skill enhancing her career as a real estate agent.
"I want to photograph the houses I'm selling," she said. "And with social media, it's more important to show things in a way that stands out, that's more eye catching with images and video from a more exciting prospective."
Visit www.losmedanos.edu/admissionsandaid to enroll. For more information, contact Jeffrey Miller at [email protected].