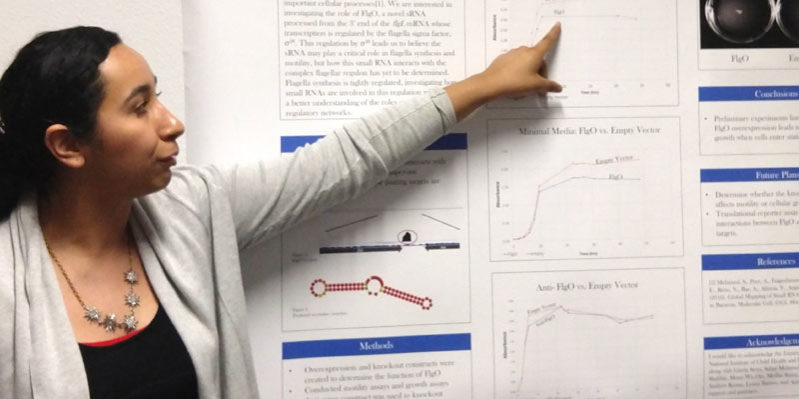 By Scott Hubbard, M.A., Assistant Professor, Math, TLC Chair, Faculty Research Coordinator
Picture this: over a dozen teams of scientists and engineers, near the beginning of their careers, presenting their research to like-minded professionals. Their findings are from a variety of STEM (Science, Technology, Engineering, and Mathematics) fields, including: local ecology; analytical chemistry; mathematical modeling; and medicine. The teams engage in networking, professional development about crafting their "elevator pitches," and mentoring from current leaders in STEM.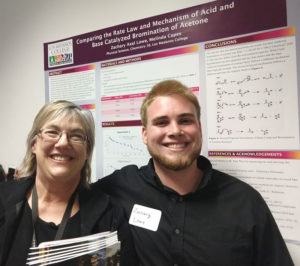 Where did you picture this happening? At an elite four-year university? Or perhaps at a leading research laboratory? 
In fact, it was at Los Medanos College last Spring. The teams of scientists and engineers were LMC students, who conducted course-embedded research in their STEM courses at the College. They also received mentoring from local Bay Area scientists and STEM professionals, including many from Dow Chemical Company.
LMC organized and presented the 4th Annual LMC STEM Research Symposium on May 4, 2018. In addition to the student teams that presented their research, there were also more than 150 students, staff, faculty, and community members in attendance to learn about the research in poster sessions. 
Many of the attendees expressed their appreciation for the quality of the students' work, and of the event itself. Joshua Bearden, Assistant Professor of History at LMC, noted "You couldn't tell that this was the first time for many of the students presenting their work in a public setting. They were very impressive in their knowledge and abilities, and they seemed like professionals already well into their careers in STEM." The success of the Symposium has also attracted a crucial corporate sponsor in Dow Chemical Company, who will support the following Symposia and research in the classroom.
LMC is committed to supporting students in receiving a high-quality STEM education, not only in the classroom and lab, but outside as well. The Symposium is one way that LMC offers students an opportunity to prepare for their careers as STEM professionals. 
California, and the Bay Area in particular, is a worldwide leader in STEM careers. The demand is so high that, according to a June 2016 report from the Campaign for College Opportunity, there will be one million STEM jobs in the next decade in the state. In the next five years alone, over 200,000 of these will be brand new jobs, according to estimates by the State of California and the Bureau of Labor Statistics. Broken down by region, the Bay Area will be the highest contributor to that growth in STEM jobs, according to the Bay Area Council's Workforce of the Future policy initiative.
Besides the high demand, these careers are also in dire need of qualified applicants. The gap between number of jobs and qualified applicants with STEM degrees is 34%, according to a 2012 report by the President's Council of Advisors on Science and Technology. This contributes to the average STEM professional earning 26% more than those in non-STEM careers, according to the U.S. Department of Commerce.
LMC's commitment to meet this demand has resulted in a 27% increase in the number of STEM graduates over the past three years alone. Dean of Math & Sciences Ryan Pedersen is excited that the College's investments in STEM programs are paying off. "Seeing the amazing things that our students are accomplishing is inspiring and motivating. Every time one of our STEM students secures a major scholarship or internship, or transfers to their dream school, our STEM team of faculty and staff feel so energized and excited about the value of our work. Thanks to our students, we have a lot to be happy about."
Do you picture yourself or a loved one in an exciting and lucrative STEM field? Take the first step by enrolling in STEM courses at Los Medanos College. You could be featured at one of LMC's annual Research Symposia, on your way to a fulfilling and high-paying career in STEM.