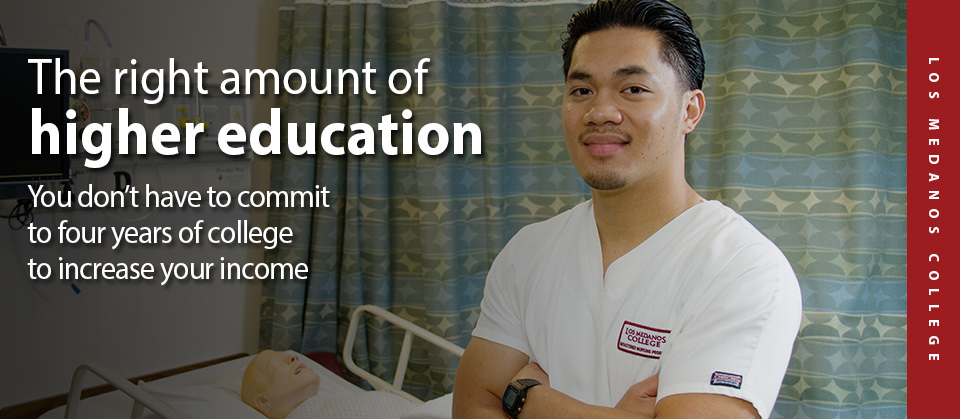 You don't have to commit to four years of college to increase your income
In choosing a career, it's important to know your personal interests and talents, the job outlook for occupations matching your interests and talents, the education required, and the earnings you can expect – annually and over a lifetime.
Several recent economics studies shed light on the outlook for national and local jobs, and help answer the question, "How much higher education do I need?"
More jobs openings for skilled workers
A 2010 study from Georgetown University, "Help Wanted: Projections of Jobs and Education Requirements through 2018," concluded that:
By 2018, the U.S. economy will create 46.8 million job openings and 63 percent of these will require workers to have at least some college education.
By 2018, the postsecondary system will have produced 3 million fewer college graduates than demanded by the labor market.
While 65 percent of workers with a high school diploma and no college experience have household incomes placing them in the middle class or above, completion of an associate degree raises this proportion to 80 percent.
Middle-skills jobs on the rise
One in every five jobs–and nearly half of those that pay $35,000 or more a year–are "middle-skills" jobs that require training beyond high school, but less than a bachelor's degree.
These jobs include nurses, computer support specialists, automotive service technicians, dental hygienists, fitness trainers, heating and air conditioning technicians, hairstylists, paralegals, pre-school teachers and medical laboratory technicians.
Middle-skills jobs and middle-class pay
In their 2011 report, "The College Payoff: Education, Occupation, Lifetime Earnings," labor market economists at Georgetown indicate that 28 percent of workers with an associate degree earned more than the median earnings of workers with bachelor's degrees.
That's worth repeating: Nearly 3 in 10 workers with associate degrees earn more than half of those with bachelor's degrees. The high earnings of registered nurses have a lot to do with that, but it's not just nurses.
The economic benefit of additional education and training over a lifetime can be substantial.  Some postsecondary education, even without earning a degree, adds nearly one-quarter of a million dollars to lifetime earnings.
An associate degree is worth over $420,000 in a lifetime earnings above what you can expect to earn as a high school graduate.
Add it up and the middle looks like a pretty nice place to be!
By 2018, the U.S. economy will create 46.8 million job openings and 63 percent of these will require workers to have at least some college education.
More in the Middle
Some of today's most plentiful jobs require two-year degrees
Somewhere between a high school degree and a bachelor's degree there is a middle range of college education that is too often overlooked. These are the so-called middle-skills jobs that pay off in challenging and interesting work that requires specialized skills, pays good wages, and offers stable employment.
Nationally, about 45 percent of all job openings are middle-skill level compared to one-third in highly skilled jobs and just 22 percent in occupations that require only a high school diploma.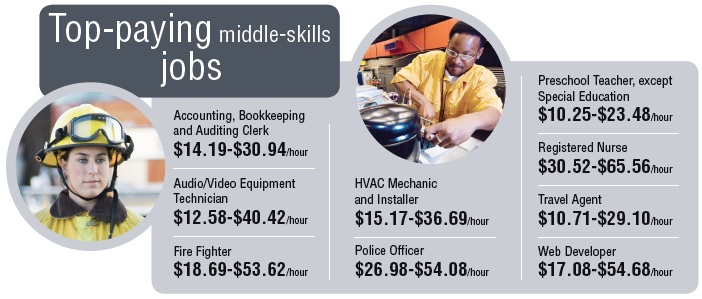 For students who want fewer than four years of college, middle skills jobs offer good pay and stable employment
According to a report by the National Skills Coalition, millions of students will take some classes in college but drop out before they earn any kind of degree. For these students, a certificate or associate degree in a middle-skills occupation might be a better choice, offering more employment opportunities and better wages.
The demand is there
"Our students get real world experience in our 'live shop', providing actual repair diagnosis, work order preparation and client interaction," stated Automobile Technology Professor Jason Dearman.
That means LMC prepares technicians to repair today's vehicles. These cutting-edge vehicles run on complex computer systems. The technical equipment to work on them is highly sophisticated: skill with a wrench has been replaced with computer skills. There has never been more demand for well-trained, diagnostic technicians.
If you have a passion for cars and trucks and want to work in a rapidly growing industry, consider a career as an automotive service technician. There are more than 700,000 automotive service technicians in the United States who perform a variety of duties ranging from vehicle inspection and repair to safety compliance.
"As a student in LMC's Automotive Technology Program, you'll receive training in many areas of automotive technology including emission control, engine diagnosis, tune-up, brakes, suspension systems and hybrid vehicles," explained Automobile Technology Professor Earl Ortiz. "This program prepares you to break into the field of automotive maintenance and repair or upgrade your skills. It also prepares those of you with at least two years of automotive experience to become Automotive Service Excellence (ASE) certified auto service technicians by mastering skills in many different areas."
Automotive service technicians work in automotive repair and maintenance shops and may be employed by independent shops, auto dealers, or eventually own their own businesses. Potential jobs include smog technician, transmission specialist, front-end alignment and brake technician, heating and air conditioning specialist, parts specialist and more.
"The hands-on skills I've gained in my auto labs help make all the lectures and tests finally strike home; and as a state-of-the-art open shop, it has helped me develop a practical understanding of real world problems. The auto technology faculty is amazing: always there to help and answer my questions, and share their knowledge only acquired through years of real life experience."
– John Bergerson, Automotive Technology student