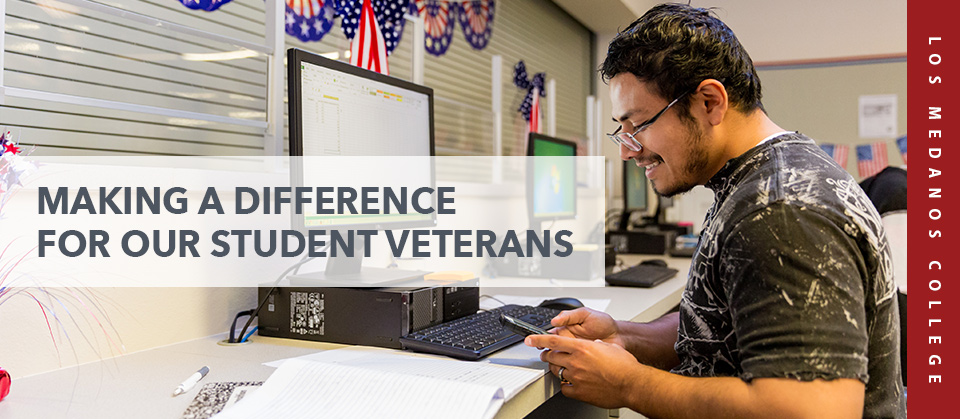 LMC now has an active, vibrant Veterans Resource Center. Opened in 2016, it is located centrally on campus and offers services and resources to specifically support student veterans, including a dedicated academic counselor, educational benefits support, computer access and printing, and a place to hang out in between classes. The one common theme is that all the student veterans appreciate that they have a support system and a location where they can find services designed just for them.
A committed team worked diligently to figure out what was needed for the Center. Senior Admissions & Records Assistant and Veteran Certifying Official Diane Ferguson, a veteran herself and one of the team's active members, explained, "We have increased federal and state veteran services in the Center to help to ease the transition from military to civilian life. Many student veterans return from military service with medical issues that can affect their ability to succeed in higher education. With the help of internal and outside services, we can help to alleviate these issues."
The Veterans Resource Center (VRC) found several community champions, including Sentinels of Freedom and PG&E, with the added support of a grant from Keller Canyon. They provided the initial computers, printers, other equipment and furniture to make the space welcoming, comfortable and functional.
Alexandria Paine is a Navy veteran and the secretary of the LMC Veterans Club. She expressed her appreciation for the club and said, "The VRC is here for veterans to relax, and make the most of the equipment and services provided. There are computers and printers, even a kitchen, and, most importantly, a veterans counselor. Sometimes it is really hard being new to LMC and not knowing how to start your benefits. We're very thankful the VRC was created."
Justin Kerns, an Army veteran, is a tutor in the Center. He commented, "We are here to get help and to help others. It's mutual aid and LMC has given us a central location to flourish. The fact that we have a dedicated student veteran counselor has been very helpful to me. They provide advice on who to talk to for specific information about transferring and getting the right classes. A favorite spot is the Center's silent study area. The VRC is a great consolidated resource for new and current veterans at LMC."
Armida Salazar is currently in the Army National Guard as a member of the Military Police; she served in Operation Enduring Freedom (OEF) in Afghanistan. She also helped with writing this article. Armida explained, "It is a tremendous honor to be a student veteran at LMC, a college that has put a lot of energy and resources behind this amazing place in support of the unique needs of our student veteran population.  Thank you, LMC!"
If you are, or you know, a veteran who is thinking about a new career or going to college, visit www.losmedanos.edu/veterans to learn more about this valuable resource. The Center is located near the Cafeteria on the third floor of the College Complex Building. We look forward to meeting you!
– Armida Salazar and Barbara Cella