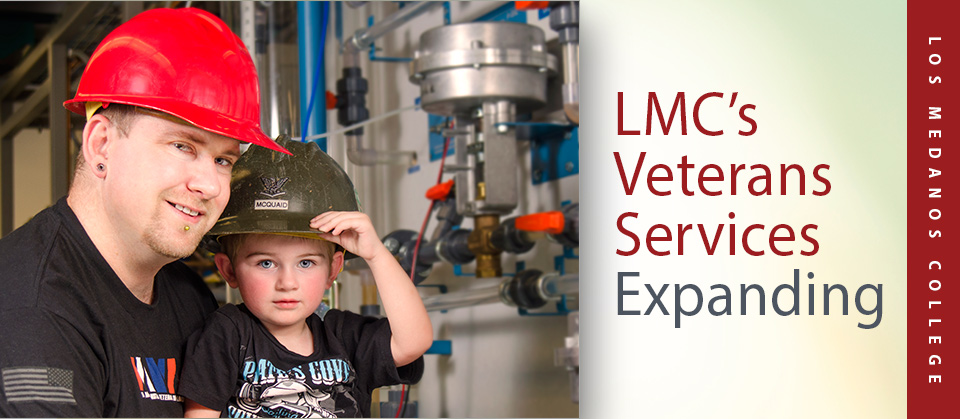 The United States Armed Forces have deployed over 3 million troops to Iraq and Afghanistan.  An estimated 30,000 men and women leave the military and return to California each year.  That number is expected to dramatically increase as the wars in Iraq and Afghanistan wind down and the military downsizes.
Student veterans add diversity and value to our campus population that we welcome at Los Medanos College. Their military experience has given them a strong sense of maturity, motivation, and discipline while providing them with outstanding leadership qualities and mentoring skills. As these veterans transition back to civilian life, many will utilize their education benefits.  Community college is a popular option.  For the majority of returning veterans attending a community college, this will be their first experience in higher education, and the transition from military to college can be quite challenging.
Typical transition challenges for student veterans can include:
marriage, family and work stressors
loss of camaraderie
financial aid stressors, lack of awareness regarding VA Benefits, financial aid, and other available resources
difficulty in navigating the bureaucracy of VA and other government paperwork in order to receive benefits
length of absence from school (4 or more years between high school or last college course) can lead to the necessity of remedial and/or refresher courses
age difference and life experience between veteran and average college student
Combat veterans may face additional transition issues like PTSD (Post Traumatic Stress Disorder), TBI (Traumatic Brain Injury) and/or MST (Military Sexual Trauma).  According to a study cited in The Chronicle of Higher Education, by Sara Lipka (August, 2011), nearly half of all student veterans show significant symptoms of PTSD, a third suffer from severe anxiety, and a quarter experience severe depression.
Los Medanos College offers a variety of services to our student veterans to help alleviate transition issues.  We provide dedicated academic counselors, Blue Star (priority) counseling appointments and priority registration for eligible veterans.  Our counselors and Veteran Certifying Officials are knowledgeable about local veteran service providers and organizations and are able to recommend referrals as needed.  Veteran service providers including the Concord Vet Center (specializing in OEF/OIF Veterans),  Vocational Rehabilitation counselors (Dept. of Veterans Affairs, VR&E) and the Veterans Outreach Program Specialist (Employment Development Dept.) have a regular presence at LMC.
With the opening of the Los Medanos College Veterans Resource Center in spring of 2016, we will be able to increase and enhance the services we provide our student veterans. It will be located next to the cafeteria in the College Complex Building, Level 3. The staff will include a veterans counselor, education benefit certifying officials, and work-study student veterans.  Proposed services include:
access to computers, printers and copiers
a relaxing atmosphere for our veterans to study and network with other veterans
financial aid information and application assistance
support and easy access to academic counseling
referrals to off-campus veteran services & resources
emergency loan program
a meeting place for our student veterans club
For more information about veterans services at LMC, visit www.losmedanos.edu/veterans
– Diane Ferguson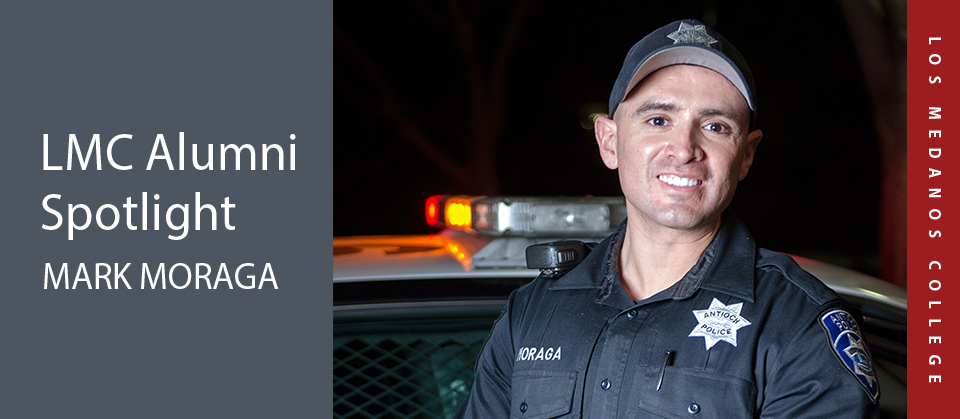 LMC Alum and Marine Corps Veteran, Mark Moraga, joined the Marines in 2004 as a way to find direction and maybe a career focus for his life. He wanted to leave negative influences in his community. Mark is an OIF veteran with tours overseas that included Fallujah and Ramadi.
Within one week of his discharge from the Marines in August 2008, Mark enrolled at LMC, and became one of our first veterans to utilize the Post 9/11 GI Bill. Mark found the transition favorable. LMC and academic life helped him not get lost in the civilian world. Attending and studying in classes provided him with the commitment and accountability he was used to in his former military life.
Mark began his college career in pursuit of a degree in liberal arts, but also explored LMC's Administration of Justice (AJ) program. The AJ classes cultivated such an interest that he applied and was hired by Antioch Police Department in 2014. They provided training through the Contra Costa County Law Enforcement Training Center Basic Academy and he is now a full-time police officer with the City of Antioch. Next, by utilizing foundation courses he took at LMC, he plans to further his education in Fall '16 by attending Saint Mary's College and earn a Bachelor of Arts in Organizational Studies Degree. Go Mark!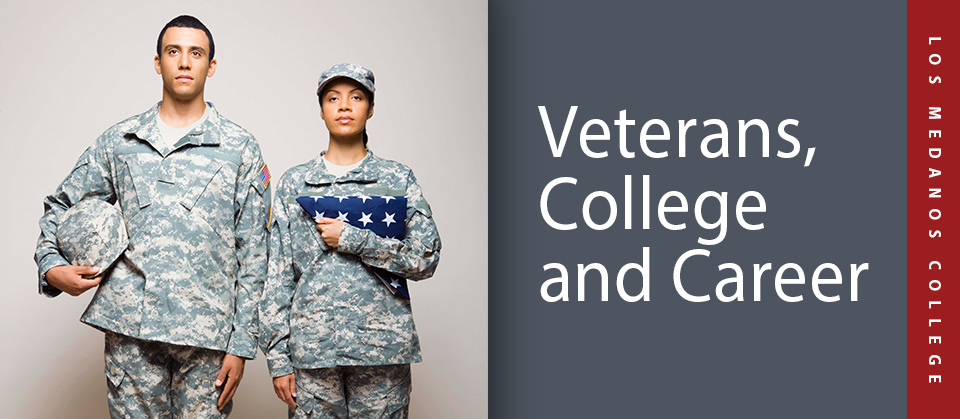 There are over 21.8 million veterans in the U.S. today and (about 1.6 million are women).
43% of all military veterans attending college are enrolled in community colleges.
The unemployment rate for veterans
May 2014: 6.1 percent
October 2015: 3.9 percent
A higher percentage of male veterans go into management and professional careers (34.6%) than non-veterans (32.5%). This is even more true for female veterans (48.7%) compared to female non-veterans (39.6%).
Both male and female veterans have a higher median income than non-veterans.
Male veterans
$37,307  2014 median income
Male non-veterans
32,433  2014 median income
Female veterans
$31,810  2014 median income
Female non-veterans
$21,804  2014 median income
36.4% of male veterans have some college
45.3% of female veterans have some college
26% of male veterans have a bachelor's degree or higher
32.8% of female veterans have a bachelor's degree or higher
Sources: US Census Bureau 2014 American Community Survey; "Facts for Features: Veterans Day 2015," Census Bureau.
5 Essential College and Career Resources for Veterans
GI Jobs: Your Guide to Post-Military Success (www.gijobs.com)
A wealth of resources for veterans who are just getting ready to return to college or enter the job market. Find information about veterans college benefits, occupations and salaries along with tips for interviewing, resume writing and job hunting.
Student Veterans of America (www.studentveterans.org)
Support and resources for veterans attending college. 500 chapters nationwide.
Military.com (www.military.com)
Connects service members, families and veterans to a wide range of services and benefits from discounts and mentors to government benefits and scholarships.
My Next Move for Veterans (www.mynextmove.org/vets)
Research your next career and determine how your military experience translates into civilian employment.
GI Bill (www.gibill.va.gov)
Determine which veterans education benefit is right for you and apply online.
Veterans Benefits Pay for College
Transitioning out of the military often means transitioning into a new career. Veterans benefits such as the Montgomery GI Bill and Post 9/11 GI Bill provide financial support for veterans for a variety of educational programs including two-year and four-year colleges.
•  The Montgomery GI Bill – For veterans who served before September 11, 2001.
•  The post 9/11 GI Bill – For most veterans who qualify, this is a more generous package of educational benefits that also includes a housing stipend.
Other GI education benefits:
•  Reserve Educational Assistance – For members of the Reserve components called or ordered to active duty in response to a war or national emergency.
•  Survivor and Dependents Assistance – Provides education and training opportunities to spouses, sons and daughters of certain veterans.
•  Veterans Retraining Assistance Program or "VOW to Hire Heroes Act of 2011" – Provides financial assistance for training for veterans who are 35-60 years old, unemployed and not eligible for other VA benefits.
Source: www.gibill.va.gov