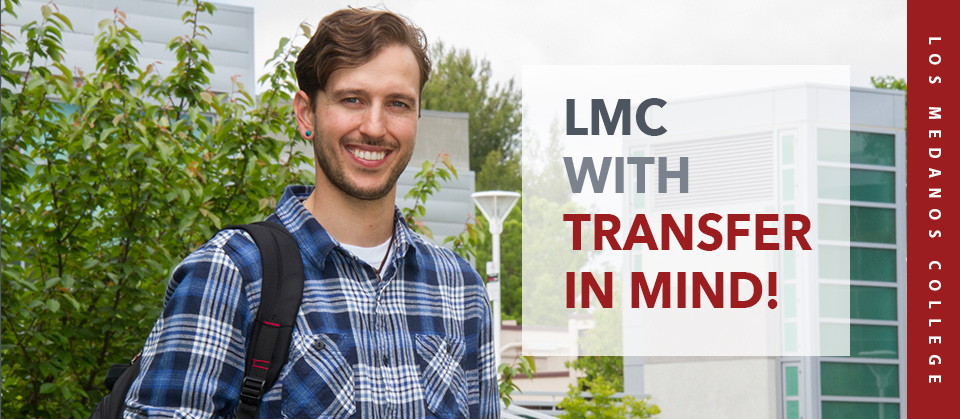 LMC's Transfer & Career Services provide students with a variety of on-campus, online and off-campus resources to aid students in finding, applying and transferring to hundreds of universities near and far!
Why consider transferring from Los Medanos College?
Our students are gaining prestige among transfer institutions, with increasing rates of acceptance at University of California (UC) campuses, California State University (CSU) campuses, and private/out-of-state colleges.
Where did LMC Students Transfer in 2015-2016?
During the 2015-16 year, a total of 102 LMC students transferred to the University of California, while 412 transferred to the California State University system.
Top Five UC Schools
UC Davis
UC Berkeley
UC Irvine
UC San Diego
UC Riverside
Top Five CSU Schools
CSU East Bay
San Francisco State
Sacramento State
San Jose State
Sonoma State
Start Preparing for Transfer Your First Semester
We recognize that Los Medanos College is the first step for many of you on your education journey, and we want you to be successful. College is a time of curiosity, learning, new friendships, growth, and sometimes stress. We also know that your success in your first year of college will set the stage for your future career.
LMC offers a number of support programs on campus. Learning communities in particular offer guidance, friends, specialized instruction and courses. Check out programs like Puente, Umoja, Honors and MESA to find out if they're of interest to you! One of our learning communities, the Transfer Academy, is dedicated to empowering students with the skills and knowledge necessary to successfully transfer to a four-year institution. The Transfer Academy provides a dynamic academic experience with strong supports in and outside of the classroom, like academic counseling and support, workshops, leadership development and four-year campus tours. The Academy is a community of students, faculty and staff working together to keep you on target to transfer
as quickly and successfully as possible.
Explore Universities
While at LMC, take advantage of opportunities to explore transfer institutions. You have personalized access on campus to representatives from popular colleges like UC Berkeley, UC Davis, Saint Mary's College and CSU East Bay; you are able to meet with these representatives and learn more about their transfer options, courses, and even on-the-spot-admissions. You can also meet university representatives from colleges around the country at our Fall and Spring Transfer Day college fairs.
Tour more than ten transfer institutions with Transfer & Career Services, for free. See colleges like University of Nevada, Reno, UC Davis, Sacramento State University, and others.
Workshops, Coaching and More
Finally, as an LMC student, you have access to expert application and transfer support, and advice from Transfer & Career Services' team of staff and student ambassadors. We provide workshops on applications, essay writing, financial aid for transfer, and scholarships. You also can utilize individual application support at our computers on the top floor of the Student Services Center, on the Pittsburg campus.
For more information, visit www.losmedanos.edu/transfer or stop by. We look forward to seeing you today and ultimately sending you off to a bright future when you complete your program at LMC!
– Rachel Anicetti