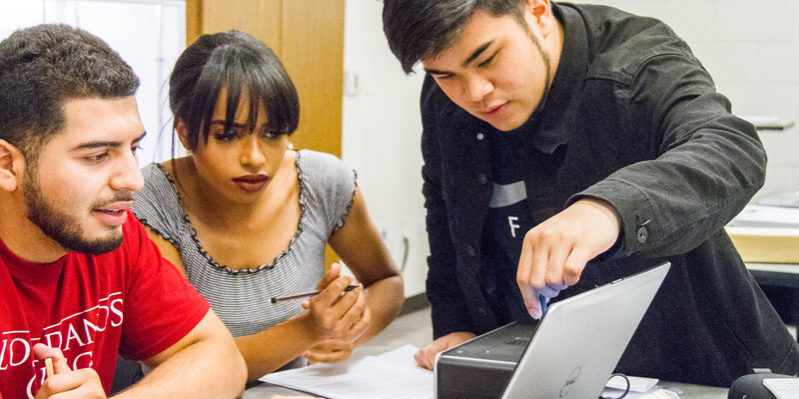 By David Wahl, M.Ed., Workforce & Economic Development Manager
For the second year, beginning in the Fall 2019 semester, the Contra Costa Community College District (4CD) will offer the 4CD Promise Program: "First Time + Full Time = Free Tuition" (FT3). All three 4CD colleges – Contra Costa College (CCC), Diablo Valley College (DVC) and Los Medanos College (LMC) – will provide free tuition for all eligible first-time, full-time students for an entire year! In 2018-19, over 2,200 students took advantage of the FT3 program.

Q How does the Contra Costa Community College District's FT3 Promise work?
A By completing at least 12 units each primary semester of your first year, you could receive a refund of your tuition! Here's how it works:
Be a first-time college student

Enroll in a minimum of 12 units

Be a California resident or otherwise exempt from paying non-resident tuition fees




(e.g. AB540)

Complete the FT3 Promise Program Application

Complete the Federal Application for Federal Student Aid (FAFSA) or California Dream Act application

4 Have an educational plan on file

4 Complete a minimum of

12 units for the semester with a GPA of 2.0 or higher

4 Receive a refund of your enrollment fees!!!
Once you have successfully completed your first term, you will automatically be enrolled in the program for the subsequent semester. As long as you complete 12 units with a 2.0 GPA, you will earn another refund of your enrollment fees. It's that easy to receive free tuition for an entire year with us!
Q How do I apply to participate in the FT3 Promise?
A To participate in the FT3 Promise, simply complete and submit the following:
4CD admissions application (CCCapply)

FT3 Promise Program Application

Free Application for Federal Student Aid (FAFSA) or California Dream Act application
Q How many units do I have to complete to be considered "full-time" for the FT3 Promise?
A A student must complete 12 or more units per primary semester (Fall & Spring). Completing a class means receiving a final grade in the course (including A, B, C, D, F, P, NP, but not including W, FW, I, MW).  In addition, students must maintain at least a 2.00 GPA while participating in the program.
Q What does the FT3 Promise cover?
A The FT3 Promise will cover the $46 per unit enrollment/tuition fee at all 4CD colleges. The student will be responsible for any books, supplies, and materials fees that a class requires. The student will still be responsible for other non-course fees.
Q If I have any early college credit, am I eligible to apply for the FT3 Promise program? Does a Summer session class disqualify a student's first-time status for the Fall term for the FT3 Promise?
A The student may take courses in the Summer term immediately prior to the Fall term, and still be considered a first-time student. In addition, a student who enters the College with Advanced Placement or college credits earned while concurrently in high school is still considered a first-time student.
You can find out more about free tuition on the district's website,  http://www.4cd.edu/ed/cp.
---
"Thanks to the investment from the state, our FT3 Promise presents a tremendous opportunity for our students," said Dr. Bob Kratochvil, President of Los Medanos College. "The program was designed to increase college access and completion for first-time students in our community, and we are excited to have another avenue for supporting their success.  Hundreds of students have already benefitted from this College Promise, and we hope many more will take advantage of FT3 as they begin their journey from college to career at LMC."
The California College Promise Program was signed into law by Governor Jerry Brown last October under Assembly Bill 19, which allowed California's community colleges to provide tuition-free education to students. The bill was authored to promote and encourage a college-going culture throughout the state, and to increase completion rates among community college students.