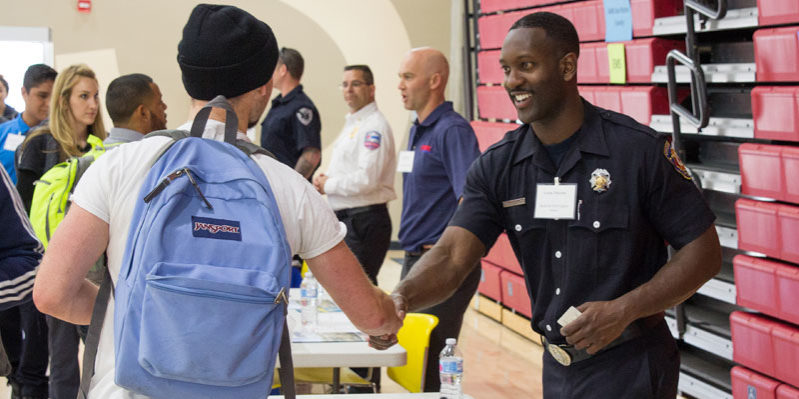 By Tara Sanders, M.A., Manager, Workforce & Economic Development
Each Spring, Los Medanos College (LMC) invites hundreds of employers – from Sacramento to San Jose – to connect with current students and alumni. Internships, part-time jobs, and career positions are all available, as employers continue to turn to community colleges to train and develop their workforce.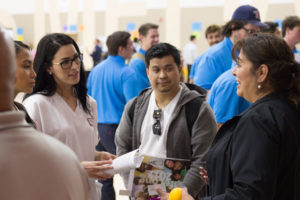 The annual Industrial Technologies Job Fair is anticipated every year, with success stories flooding in after each event. Current and graduating students, as well as alumni, from LMC's Appliance Service Technology, Automotive Technology, Electrical & Instrumentation Technology (ETEC), Process Technology (PTEC), and Welding Technology programs are invited to spend an afternoon with local employers eager to connect with prospective employees.
Kyle Terry, who completed his Certificate of Achievement in both Electrical and Instrumentation Technology in 2014, recalls the importance of the job fair as a student and now also finds value as an employer:
"I remember going to job fairs in 2013 and 2014 before I graduated, and I got a ton of information about upcoming summer internships as well as getting to meet some possible employers.
Fast forward to 2015: East Bay Municipal Utility District (EBMUD), the company that hired me in December 2014, had me represent them at the LMC Job Fair. It was an awesome experience being able to inform students about upcoming jobs and the application process at EBMUD. It was also great, as a 'success story,' having the opportunity to encourage other students to not give up and to let them know there are plenty of jobs."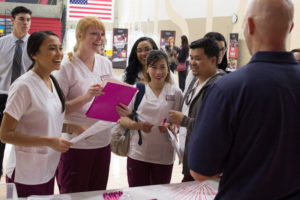 While Advanced Manufacturing students have continued bringing employers to campus for prospective hiring, health and public safety employers also come to campus in the Spring looking to hire Nursing, Emergency Medical Services and Fire Technology graduates. 
In Spring 2018, more than 40 employers set up in the LMC Gymnasium, excited to meet with East Contra Costa County's future nurses, EMTs, and fire service professionals. And, while the expected hospitals and fire departments showed up, so did representation from various military branches, skilled nursing facilities, and community clinics. As LMC continues to teach in-demand and industry-standard curriculum, employers from multiple areas continue to look to the College as a premier workforce training site, known for producing qualified, top-notch graduates.
As the demand continues to grow, the job fair events will evolve to offer not only internships and career hiring opportunities, but also serve as career exploration events for those who may still be deciding which career pathway is right for them. While some students are still exploring and undecided, others may have an overall interest but haven't yet pinned down which course of study within a particular industry is the best fit. With job fairs and other work-based learning opportunities, like company tours and classroom guest speakers, LMC continues to expose students to career pathways and the world of work – supporting informed and successful career opportunities.