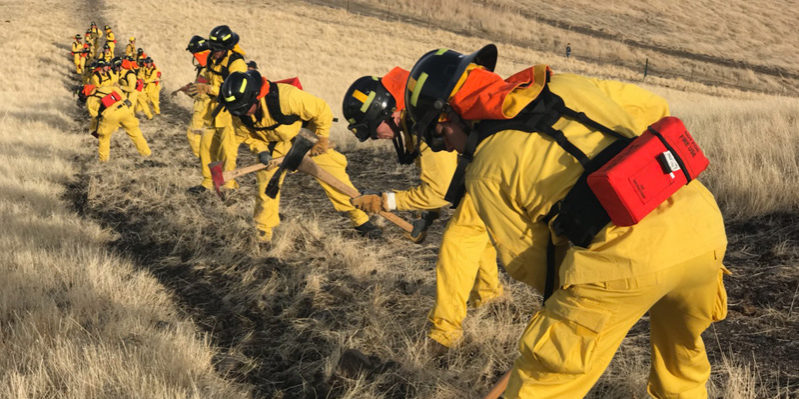 By Captain Rick Hurtado
Do you enjoy helping people and making a difference? Do you like to solve problems, work as a team, and spend time outdoors? If you enjoy these things, then the firefighting profession is a perfect career for you. The daily work of a firefighter can entail helping people who are suffering a medical emergency, responding to a traffic collision, or tackling a building ablaze or a wildfire. In a state of almost 40 million people, there is always an emergency that requires the expertise of skilled first responders. The Fire Academy program at Los Medanos College (LMC) can take you one step closer to making your first responder dreams a reality.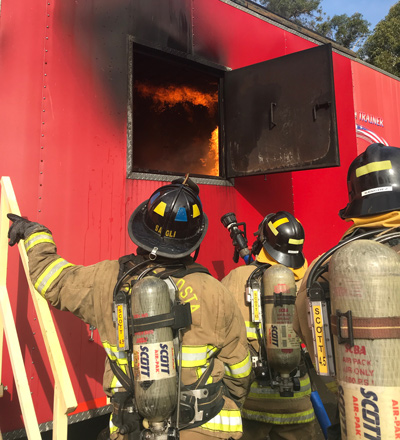 Since 1998, LMC has offered a Firefighter I Academy as part of its Fire Technology certificate and degree programs. The Fire Academy is accredited through the California State Fire Marshal's Office and meets the 2013 Fire Fighter I requirements. The academy, which is conducted in partnership with the Contra Costa County Fire Protection District, consists of 16 units (408 hours) and is offered once each semester: Tuesday and Thursday, 6:00 p.m. to 10:00 p.m.; Saturday, 8:00 a.m. to 5:00 p.m.; and Sunday, 8:00 a.m. to 6:00 p.m. The majority of the sessions are held off-campus at the Contra Costa County Fire Training Center in Concord.
The Fire Academy offers a number of skills and certifications that may include:
Fire Fighter I

Fire Control 3B – Structural Live-fire Simulators

Auto Extrication

Confined Space Awareness

Basic Wildland Firefighter

Hazardous Materials – First Responder Operations, Decontamination

Incident Command System 100 and 200

National Incident Management System 700

FIRE 170 – Occupational Work Experience in Fire Technology
Los Medanos College works closely with surrounding fire agencies to provide work experience training for recent cadet graduates. In doing so, cadets take their experience from the academy and immediately begin applying it in their field of study. They also receive college credit for their time working in the field through a Cooperative Work Experience Education (CWEE) course. By completing the Fire Academy and gaining work experience, cadets are competitive for the 500+ annual firefighter job openings within a 50-mile radius of LMC. Applicants with Fire Fighter I certificates hold a strong advantage for entry-level firefighter positions, with salaries that begin in the $50,000 range through median salaries exceeding $80,000 per year.
For further information, contact: Ricky Hurtado, Fire Academy Coordinator, at rhurtado@losmedanos.edu; Mike Grillo, Fire and EMS Department Chair/Professor at mgrillo@losmedanos.edu; or German Sierra, Associate Professor, at gsierra@losmedanos.edu.
Register with Admissions & Records for the next Fire Academy, scheduled for Fall 2018, with prerequisites: Fire 101, Fire 102, Fire 106 or Candidate Physical Ability Test (CPAT), EMT, and EMT National Registry.