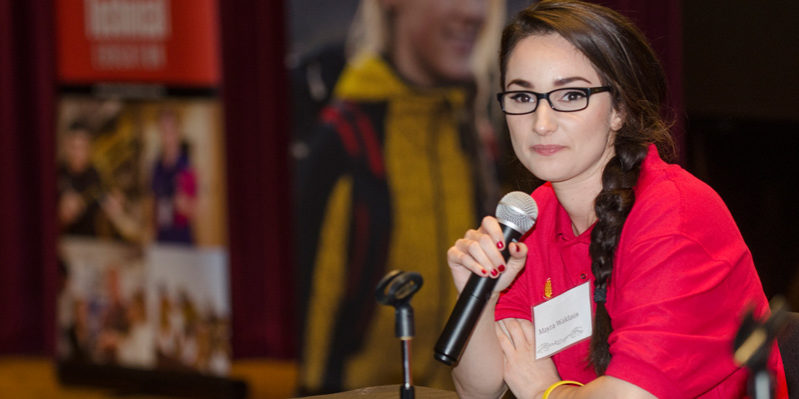 One life-changing event, women of all ages, and Shell Oil Co.
By Tara Sanders
On October 18, 2017, more than 70 people filled the Los Medanos College (LMC) Recital Hall with one mission in mind: transforming the lives of East Contra Costa County women through job training and economic mobility.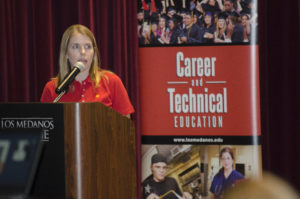 "Energize Your Destiny," a Shell Oil Company event, is a partnership between the company's local refineries, its corporate team, and community colleges. It is designed to share opportunities for job training in the trades and career opportunities for women. This special event has taken place in Louisiana, Texas, and other states, but LMC was the first community college in California to partner with Shell in hosting "Energize Your Destiny."
The day began with women from all over the Bay Area making their way out to LMC's Pittsburg Campus. Attendees ranged from women looking to return the workforce and youth from various high schools, to women who have never worked outside the home and current college students. The program opened with a warm welcome from LMC President Bob Kratochvil and Jeff Harris, Production and Maintenance Manager with Shell Oil. The uplifting and – as one participant put it – "motivating" moments really started hitting home when keynote speaker Nicola Maher, General Manager of the CRI Catalyst Plant, and a panel of Shell Martinez Refinery women employees began to tell their stories.
The speakers demystified trades work, emphasizing safety, camaraderie, and teamwork. Younger attendees lit up as they listened and learned about the possibility of going to school locally and staying close to home. Other participants took comfort in hearing about work-life balance, benefits, and parental leave. Nicole Pitts, an LMC alumna from the Electrical & Instrumentation Technology (ETEC) program, stressed the importance of having a commitment to academic studies, and how hard work can pay off with a career and company that many employees stay with for life. Mayra Waldhaus, a current ETEC student, recently completed a summer internship at the Shell Oil Martinez refinery and emphasized how showing up on time, asking for help, and working on problems as a team were takeaways and a valuable investment in her future.
While Shell employees shared their stories and encouraged participants to explore trades careers, such as Welding and Process Technology (PTEC), participants asked questions about the hiring process and educational requirements. During lunch, community colleges throughout the Bay Area participated in a resource fair by sharing information on their training programs and encouraging attendees to enroll. The day concluded with a prize giveaway, words of encouragement, and – in the words of one inspired attendee – "a renewed hope we can really do this."
This partnership is one of many that Shell Oil Company has with Los Medanos College. 
For more information on careers at Shell, please visit www.shell.com/careers.