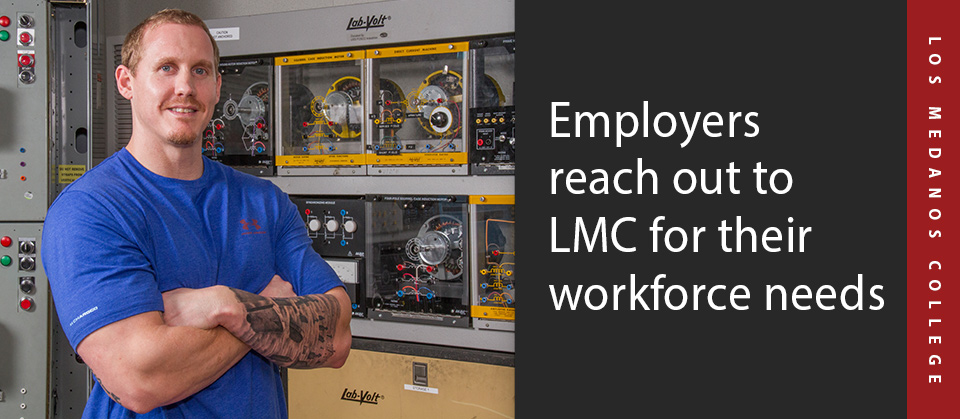 Today, more than 600,000 jobs, most of them technical, are going unfilled across the nation. Business and industry are seeking both tried-and-true and innovative workforce development strategies to develop highly skilled technical workers with the right capabilities. Let us share four examples of how employers can and do access technical training and education for their own workforce needs.
Dow apprenticeship program uses LMC to build its future workforce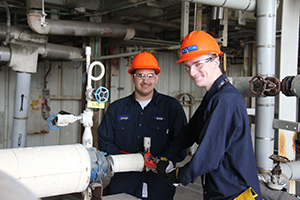 In 2015, The Dow Chemical Company launched a U.S. Apprenticeship Pilot Program at various Dow sites across the nation – including its Pittsburg site – utilizing LMC flagship manufacturing programs, Process Technology (PTEC) and Electrical & Instrumentation Technology (ETEC). Each spring, the Apprenticeship program offers local graduating high school seniors the opportunity to gain three years of world-class training and paid, on-the-job experience while earning a two-year associate degree.
"Apprenticeship programs provide an opportunity for the public and private sectors to partner in a meaningful way and to prepare the next generation of Americans for tomorrow's high-skilled, high-paying advanced manufacturing careers," said Andrew N. Liveris, Chairman & CEO, The Dow Chemical Company. Today 87 percent of apprentices are employed after completing their programs and the average starting wage for apprenticeship graduates is over $50,000 per year.
In general, Dow and LMC seek candidates with a passion for complex, high-tech work in a modern manufacturing setting. Successful candidates will possess: mechanical aptitude, critical thinking capabilities, strong interpersonal skills, personal responsibility, a proven ability to work well within a team, and the willingness and ability to learn.
Employers seeking to establish their own college-based Registered Apprenticeship can find out more by contacting Dave Wahl, LMC Workforce & Economic Development Manager, 925-473-7415, dwahl@losmedanos.edu.
BART contracts for transit worker technical training
Employers with training needs for their current workforce can contract with LMC for specialized training programs to suit their industry.
Bay Area Rapid Transit (BART) is contracting with Los Medanos College in an innovative program, funded in part by a grant from the Federal Transit Administration, to train for careers in the field of transit. BART will contract for instruction equaling 22 credit units over three semesters for five current BART employees. Recruitment to fill the remaining 20 spaces will begin in the spring of 2016. BART and the College will recruit those who: are 18 of age or older, receive public assistance funds, meet lower income level guidelines, are veterans or spouses of veterans, reside in identified low income areas, are female, reside in high unemployment area,  and are minorities.
The project, dubbed the Transit Career Ladders Training Program (TCLT), is designed to meet the growing needs of the transit workforce by providing training access for traditionally under-represented individuals. The project will feature a "summer bridge" program designed to prepare transit and manufacturing students for the rigors of technical instruction where math and English skills are key to success.
For information about the TCLT program, visit
www.losmedanos.edu/ETEC or www.bart.gov/training. Employers who want information about customized training for current employees can contact Ruth Goodin, Interim Dean of Institutional Equity & Advancement, 925-473-7413, rgoodin@losmedanos.edu.
LMC Student Spotlight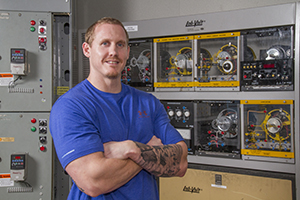 Chris Franzel, ETEC intern for SF Water:
"My internship at SF Water has been one of the most helpful experiences I have had. With an internship, I have been able to advance my knowledge of various products, and how to use them. The more you know and the more you have worked with can really help your chances in finding employment. I also have learned a lot working with the team at SF Water and appreciate that they have allowed me this opportunity to get started in a new career."
Internships bridge the gap between job training and employment
Internships are in high demand, and employers are looking to LMC to develop these work-based learning experiences.
San Francisco Public Utilities Commission (SFPUC)/SF Water looked to LMC to hire interns at their southeast water treatment plant. "Building pathways for Instrumentation Technicians in the water/wastewater industry is critical for operational reliability now and in the future. Internships are a practical way for students to apply their learning in the field and gain valuable experience that will qualify them to apply for jobs in the industry," says Catherine Curtis, BAYWORK Steering Committee and Workforce Reliability Manager at SFPUC.
Bob Muller, L&D Training Department Supervisor at Shell Martinez Refinery explains his enthusiasm for LMC's intern program, "We recently completed a successful Operator Internship program where several PTEC students from LMC spent four weeks working with our production shift teams and day staff learning firsthand what it's like to be a process operator at our site. This internship led to the hiring of four permanent Process Operators. We've been very pleased with the quality of the new hires we've received from the PTEC program over the past several years. Keep up the good work…"
There are many exciting career opportunities in the advanced manufacturing field, and internships are a win-win for both the employer and the student.
For more information about industry internships and LMC contact Tara Sanders, Community Partnership Liaison, 925-473-7417, tarasanders@losmedanos.edu, or visit www.losmedanos.edu/cwee. 
LG partners with LMC for appliance technicians
Another example of serving the workforce needs of industry can be found in LMC's Appliance Service Technology Program. LG Electronics, an innovative industry leader in the world of electronics, is supporting training at LMC that focuses on their line of state-of-the-art household appliances.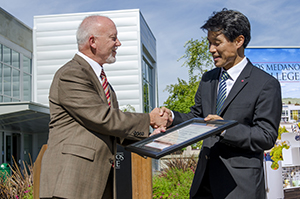 LG is providing some of their latest appliances for LMC students to work on in their training classes, along with curriculum materials, training aids, specialty tools and repair parts. LG's training experts are sharing their knowledge through technical training to LMC's instructors. LG is providing training sessions at the College for current LG technicians in the field, and LMC's appliance service technology students will have the opportunity to participate.
Len Price, chair and faculty of the LMC program explained, "LG is one of the most supportive companies for service technicians in the field. Being able to work with this industry leader is an honor and a privilege for LMC. Their product is up there amongst top-of-the-line products currently available. LG is providing a wide variety of appliances for students to practice on including refrigerators, ranges and ovens, microwave ovens, dishwashers, and clothing washers and dryers."
For more information about LMC's Appliance Service Technology Program, visit www.losmedanos.edu/appliance or contact Len Price, Program Chair, 925-473-7737, lprice@losmedanos.edu.
– David Wahl