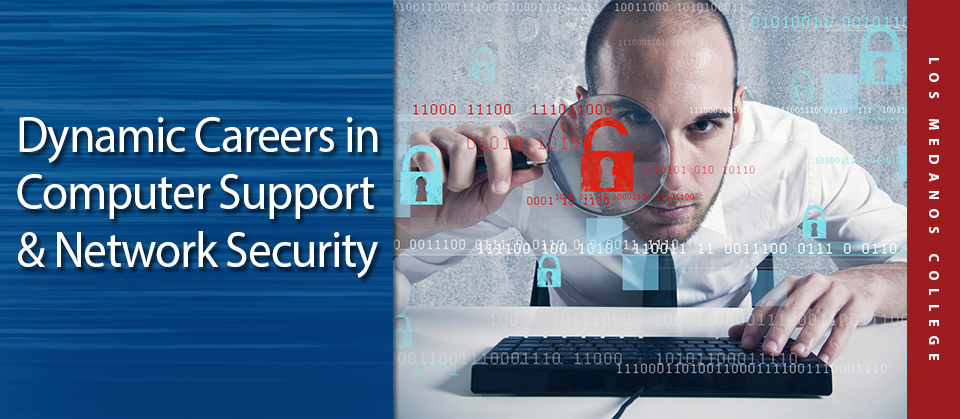 Providing support for computers and keeping them secure are ongoing needs in today's companies. LMC's Computer Science Department offers a number of options to help you prepare for a career in these dynamic, high-demand fields in the Bay Area. In addition to developing your technical skills, LMC's programs provide you with new job skills, better career choices and great wages.
According to Clayton Smith, LMC's Computer Science Department Chair, "Students receive instruction in a range of technologies, including networking, mobile devices, and computer programming.  They also learn how to use specialized applications such as help desk support systems and computer forensic tools."
Computer support and network security are some of the most high demand technology careers in the Bay Area.  Computer support specialists will add nearly 2,000 jobs between 2012 and 2015, and almost 800 jobs for computer network support specialists according to a recent study.  ONet Online (www.onetonline.org) says computer support specialists have a bright future, with a large number of job openings in the field.
To get started, many students enroll in Introduction to Computers (COMSC 040) and then progress from there, depending on which program they wish to pursue.  Some courses are offered online in addition to those at the Los Medanos College campus in Pittsburg and at the Brentwood Center.  The Networking and Security Basic and Advanced Certificate of Achievement program prepares students for jobs in computer forensics and/or networking. These jobs demand excellent technical skills and the ability to investigate and solve problems. Most organizations must have network specialists. Given the rise in computer crimes, viruses, and computer hacking, the need for computer forensics professionals has increased in the government and in the private sector. Possible careers include network and security support, security specialist, network administrator, and software quality assurance tester. The Associate of Science Degree in Networking and Security develops technical skills while enhancing professional skills to increase your career opportunities and potential to advance to higher level positions.
"The Computer Security and Networking program is providing me with the skills and in-depth knowledge of troubleshooting & fixing networking issues. The program's instructors are very helpful and make sure that I thoroughly understand the subject. LMC's computer lab staff has provided me with wonderful support. I plan to earn an Associate of Science in Networking and Security in fall 2015. This degree will allow me to obtain a position as a 'help desk technician' where I would support various computer users throughout a company."
– Sonja Vijh, Computer Security and Networking student