"AEBG" – Pathways from Adult Education to College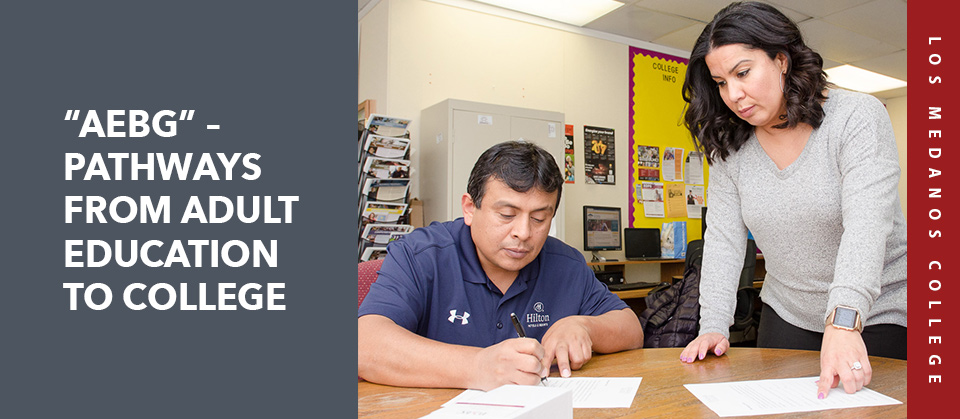 In the last few years, there has been a lot of examination and analysis regarding the effectiveness of public education. Adult education and higher education institutions are held to high standards of accountability, and are being encouraged to collaborate in order to provide smooth pathways for adults seeking careers who are actively in the Adult Education system and transitioning into colleges.
The 2015-2016 State Budget appropriated $500 million to the California Community Colleges and the California Department of Education to expand and improve the provision of adult education. Locally, Adult Education Block Grant (AEBG) funds are directed by a consortium of county adult education providers and community colleges focused on the areas of:
Basic math and English skills, including high school equivalency certificates
Classes in citizenship and English as a second language
Education programs for adults with disabilities
Short-term career technical education programs
Programs for apprentices
Lynne Nicodemus, Pittsburg Adult Education Principal said, "Pittsburg Adult Education Center has partnered with Los Medanos College (LMC) for years to support adult education students as they transition into the community college programs.  Adult education students are capable of being successful community college students.  So, we help them determine the right timing and navigate the process for moving from Pittsburg Adult to LMC."
The new Liberty Adult Education "College/Career Transition Center" is a prime example of how students are supported in their transition into college. The Center, launched in 2016, features Career Connections Liaison Debra Dye and a dedicated College Transition Specialist, Nick Morgan, who help guide students to transition their adult education career pathway goals to aligned college degrees and certificates. Students make one-on-one appointments with the Transition Specialist and receive information about the types of programs offered at the local community colleges.
Nick, who provides identical services for the Antioch and Pittsburg Adult Ed centers said, "We are helping students plan career pathways, where they can start at the adult education center and build on their experience at the community college for sustainable and progressive employment."
His LMC counterpart, Transition Specialist Catherine Fonseca echoed Nick's remarks, "As the Los Medanos College Transition Specialist, I am here to assist students transitioning from adult education to our college. I help them access college resources and services, maximize their college experience, and become competitive in the workforce. I also work with our English as a second language community, acquainting them with the American higher education system so they can see LMC as a training institution that will help them and their families attain financial stability."
For information about charting your own pathway to LMC utilizing the vast resources of our East County adult education centers, contact Nick Morgan at nickmorgan2@gmail.com or Catherine Fonseca at cfonseca@losmedanos.edu.
– David Wahl