Associate Degrees for Transfer Guarantee Acceptance at Cal State Universities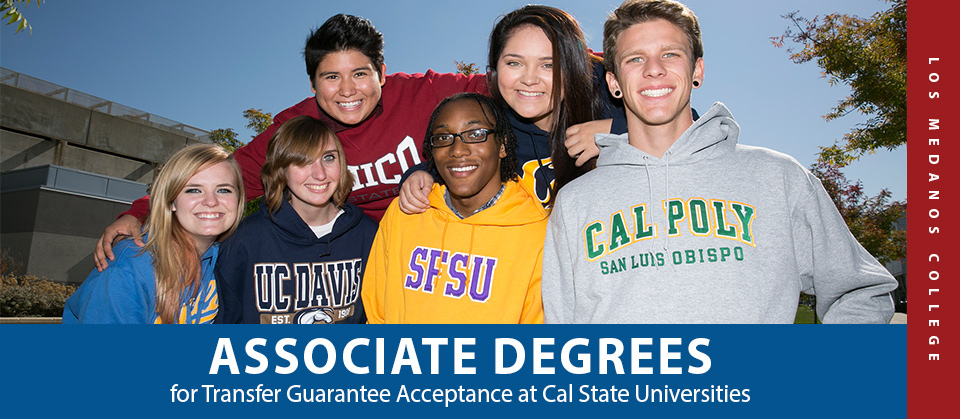 How would it feel to know that you will be accepted to a Cal State University (CSU) when you've completed your associate degree at Los Medanos College?
Would you like to know that each class you take will get you closer to transferring, and that you aren't wasting any effort, time and money? If you can answer yes to both of these questions, check out the College's Associate Degrees for Transfer.
There are now 18 degrees for transfer offered at Los Medanos College. And rumor has it, MORE ARE COMING!!
Here's what we have now:
Administration of Justice
Anthropology
Art History
Business Administration
Communication Studies
Computer Science
Early Childhood Education
English
History
Journalism
Kinesiology
Mathematics
Music
Physics
Psychology
Sociology
Studio Arts
Theatre Arts
The Details
The Associate Degree for Transfer (AA-T or AS-T) is a special, new degree offered at California Community Colleges. To pursue this special degree rather than a traditional Associate of Arts or Science degree (AA or AS degree), you should meet with a counselor to develop an education plan that puts you on the path toward the AA-T or AS-T degree.
The guarantee itself means that students who earn an AA-T or AS-T degree and meet the CSU minimum eligibility requirements are guaranteed admission to a CSU, but not necessarily to a particular campus or major. With the special degree, you may be given a GPA bump when applying to an impacted campus outside your local area or an impacted major that is deemed similar.
In addition, once at the CSU, if you are admitted and enrolled in a designated similar degree program, you have the opportunity to complete your bachelor's degree with as little as 60 semester units or 90 quarter units of coursework. A counselor will help you determine which CSUs offer bachelor's degrees that correspond to your AA-T or AS-T degree. It is still important for you to apply to the schools that interest you and follow admissions deadlines to be considered.
All LMC students are encouraged to meet with the College's counselors to develop an education plan. For more information about counseling services at LMC, visit www.losmedanos.edu/counseling.
For more information about Associate Degrees for Transfer, visit www.losmedanos.edu/pathways/adt.asp.